Cartridge Filters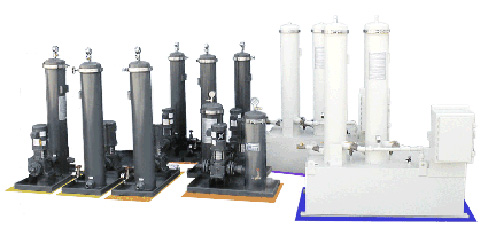 Cartridge filters can be built into many different system configurations.
The use of Cartridge Filters is a simple, low cost, filtration method that is well suited to a variety of applications and works well with many types of first stage pre-filters or separators. The typical pleated type filter elements provide a good amount of filter area for reasonable life and good contaminant removal. Best suited for operations which generate modest contaminant loads and require fairly infrequent element changes, they offer compact size, minimizing floor space requirements. Depending on the particular application they can be used as full flow filters where all the coolant being delivered to the work zone is filtered or as side stream or kidney loop filters to maintain contaminants in the machine sump at reasonable levels.
Polytech stocks filter housings in 7" x 18" and 7" x 36" sizes in both carbon steel and type 304 stainless steel as well as a wide variety of replacement cartridge elements.